The massive Baroque castle can be seen dominating the town silhouette for miles around. The so-called "Long Drive", an access road lined with high walls and partially built by cutting through the natural rock formations, likewise dates from the Baroque era. The castle itself is surrounded by a rose garden with Baroque statues. From the 1930s until the withdrawal of the Soviet Army, the castle served as a garrison. Today it houses, among other things, exhibits from the regional museum. A selection of historical weapons is on view in the former armoury, and there is also a display of Baroque paintings, sculpture, porcelain, ceramics, clocks and furniture. On the ground floor is a permanent exhibition on the history of the castle and the Thun-Hohenstein family – the lords of the castle from the mid seventeenth century until 1932.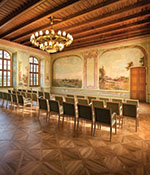 Opening times
Castle
winter season (January, February):
Mon - Sun, Holidays: 10.00 - 16.00.
High season (July, August):
Mon - Sun, Holidays: 09.00 - 18.00 hrs.
Other months:
Mon - Sun, holidays: 09.00 - 17.00 hrs.
Rose Garden
April, October:
Mon - Sun, holidays: 10.00 - 18.00.
South Gardens
April, September: 09.00 - 19.00
May - August: 9.00 - 20.00
October, March: 9.00 - 18.00
November, December (weather permitting): 10.00 - 16.00
Guided tours
The tours always start according to the times indicated on the website for the individual tours.
Admission fees
The castle grounds and southern garden
Free
Rose Garden
Free
Exposition "Tyrš's little world"
free
Exposition "Děčín Clockmaker"
full admission / children under 15 years: 50 CZK / 30 CZK
Exposition "Historical carriages and motorcycles"
full admission / children up to 15 years: 50 CZK / 30 CZK
Children's tour
90 CZK
Guided tours
One tour
full admission: 120 CZK
students, seniors: 90 CZK
children 6-15 years, ZTP, ZTP/P: 60 CZK
Family (2 adults and 2 or 3 children under 15 years): 300 CZK
Two tours of your choice
full admission: 200 CZK
students, seniors: 160 CZK
children 6-15 years, ZTP, ZTP/P: 100 CZK
Family (2 adults and 2 or 3 children under 15 years): 500 CZK
Foreign language guided tour
full admission: 240 CZK
students, seniors: 180 CZK
children 6-15 years, ZTP, ZTP/P: 120 CZK
Extras/offers
audio guideholiday offersguided tourscafeshopspecial exhibitionslectures
Handicapped accessible
handicapped accessible toilet
limited handicapped accessible
Foreign language offers
Guided tours in German
Educational offers
Guided tours