The remand centre of the Dresden district administration of the German Democratic Republic's Ministry of State Security (Stasi) in Bautzner Strasse is now a memorial. It is the only remand centre in the Free State of Saxony to have been preserved largely in its original state. The authentic site in the former Stasi complex overlooking the Elbe conveys an impression of the repressive treatment to which opponents to the regime were subjected by the SED dictatorship as well as its Soviet forerunners in the Soviet-occupied zone and the GDR. Independent and guided tours provide insights into the special characteristics of the building, the regimen that prevailed there for the prisoners, and the inhumane interrogation methods. The former Stasi banquet hall and the office of the last head of the Dresden Stasi headquarters, preserved with its original furnishings, are also on view.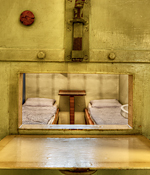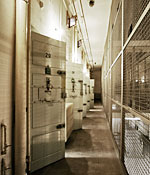 Opening times
Daily 10 am to 6 pm Closed Easter Sunday, 24–26 Dec, 31 Dec and 1 Jan
Admission fees
Full-payer: 6.00 EUR
Reduced admission: 4.00 EUR
Visitors to the age of 18 free of charge
Combined ticket with Museum "Welt der DDR" 12.00/8.00 EUR
Reduced admission for:
Students, trainees, participants in the Federal Volunteer Service (FSJ, FÖJ), holders of the "Dresden-Pass", asylum seekers, recipients of ALG II and the persons listed in the notification of approval for the stated validity, recipients of social assistance (proof not older than 12 months), people with disabilities (from 50% reduction in earning capacity)
Transport connection
Tram no. 11 or bus no. 74 / 261 to "Angelikastraße" Bus no. 64 to "Waldschlösschen"
Extras/offers
guided toursshop
Misc. extras
Free guided tour on every first Sunday of the month 11 am (the memorial admission fee is charged) Free admission to the memorial on every last Sunday of the month
Handicapped accessible
handicapped accessible toilet
limited handicapped accessible
Foreign language offers
Exhibition texts in English, Russian, Spanish, French, Polish and Czech Guided tours in English
Educational offers
Exploration project on custody conditions and interrogation methods; source project on "Gefängnis DDR"; exploration tours"Spurensuche" ("Looking for Traces") for the whole family On the basis of various biographies, the source project revolves around aspects of everyday life in the GDR, conflict, escape, imprisonment and freedom. The "Vorsicht friedlich!" ("Careful, peaceful!") game consists of five phases in which players talk about how to get an imaginary dictatorship out of a crisis.
Contact
Bautzner Straße Memorial
Bautzner Straße 112a
01099 Dresden
Fax: +49 (0)351 / 6 46 54 43